Don't just talk climate, be a climate business leader!
Led by startup practitioners
who have supported startups
that have raised $160mn in the last 2 years
THE CLIMATE SECTOR
IS
BOOMING!
There has been a 210% rise in investment in the climate tech sector year-on-year!
Be a Part of the Climate Collective Ecosystem
The continued support that keeps you on track during and after course completion
Get access to mentorship programs by Climate Collective mentors and experts
Get access to Climate Jobs Board
Get free entry to The Climate Accelerator for further support
Different courses for different audiences
Leverage the power of online education to accelerate your progress.
Climate tech startups supported
Learning-by-doing programs that build quick, validated business plans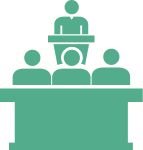 Led by startups practitioners who run the largest climate tech acceleration platform in India
Mentorship support beyond the program timeline
Continue ecosystem support for founder journey through Climate Collective
Start your entrepreneurial climate career
Climate Certificate - Climate Change Course
Commitment of 4 hours/week
Take a leap into circular economy innovation
Circular Economy Business 101
Commitment of 4-5 hours/week
Climate sector is booming, be an early investor
Commitment of 2 hours/week
If you are not ready to take a course but want to take an exploratory step, enrol in our fellowships!
Fellowships to learn about
climate tech innovation landscape
Learn the basics of entrepreneurship, start building your own impact business idea and join a network of like-minded people
Commitment of 3-4 hours/week

Aspire to join one of the hottest climate tech startups who are creating a scalable impact?



Many startups in climate are looking for the right talent with an entrepreneurial spirit to expand and scale.
Check out our Climate Jobs Board and get exclusive support and opportunities to get hired post our courses.
Climate tech startups offering opportunities
Each course is designed to
Expose you to the climate tech innovation landscape and its potential opportunities
Make you an entrepreneur with an intensive learning-by-doing approach
Give you continuous and customised mentoring support beyond the course
Investments in climate startups are seeing a boom, don't miss the bus!